Water damage in your home or office is something most people never plan for. So when it happens you need professionals to dry out and restore everything that makes your house a home or an office functional.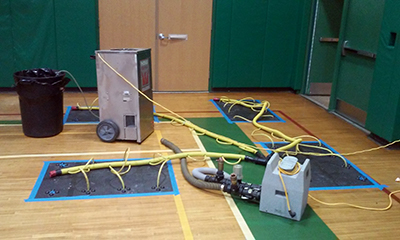 Time is critical when responding to a water loss. Sink overflows, water-pipe breaks, floods, sewer back­ups and sprinkler system problems all require immediate response. Experienced technicians are vital for successful restoration. Our water damage specialists are all IICRC certified and are experienced in the handling of water damage mitigation, mold, dehumidification systems, corrosion control, sewage backup contamination clean-up and reinstallation techniques. The longer you wait, the more likely mold will grow.
Water Categories
Category I Water
Sanitary or "clean" water sources, sources that do not cause an initial health threat. Sources include broken water pipelines, tub and sink overflows, appliance water line failures, hot water heater ruptures, falling rainwater and broken toilet tanks.
Category II Water
Unsanitary or "gray" water sources contain some degree of contamination. "Gray" water sources include, but are not limited to; appliance overflows from dishwashers, washing machines, toilet bowls with some urine, aquariums and waterbeds.
Category III Water
Unsanitary or "black" water sources always contain pathogenic agents. "Black" water sources include; municipal sewer lines, sea and ground surface water, rising water from rivers and streams and certain types of sprinkler systems.Porous materials such as pad, carpet, paper, ceiling tiles, books, etc. cannot be salvaged and must be disposed. Hard, non-porous surfaces can be cleaned and sanitized.
First steps to take in every situation include:
Locate and stop the water source.
Be aware of hazards such as electric shock, slipping and toxic odors from sewer back-ups.
Move valuables to high-ground.
Put furniture on wood blocks, tin foil or plastic wrap.
Remove all standing water.
Call a certified and qualified restoration contractor.
Call your insurance agent to see about coverage.
Q. How Does DCU Clean Up After a Flood?
A. Disaster Clean-Up strictly adheres to IICRC (Institute of Inspection, Cleaning and Restoration Certification) S 500 guidelines for water-damage restoration including loss assessment and evaluation, categorization of the water, drying, structural and contents consideration, monitoring and final inspection and completion.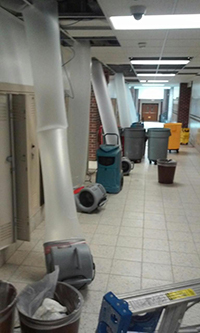 Complete Structural Drying
We will extract as much water as possible, then continue drying using commercial dehumidification and other specialized drying equipment to "pull" the water that has become entrained in the structure. Whatever is required to dry the structure to prevent further damages from occurring will be done by professionally trained technicians.
Don't Wait Call Us NOW
Call or Contact Us Online for an estimate on our Water Damage restoration or mitigation services. Disaster Clean-Up works with all insurance carriers… do not let the insurance carrier tell you who you can have in your home…this is your choice and obligation to bring in a reputable company.