Disaster Clean-Up specializes in mold remediation services providing you with full expert examination of your property and isolating mold hot-spots. Our staff of environmental professionals provide state of the art remediation and abatement services.
Questions About Mold?
View Mold F.A.Q.s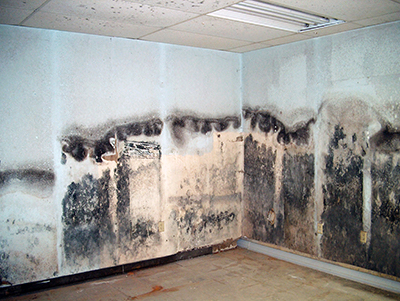 Our Mold Abatement Services include: removal of all materials infested with microbial growth, removal of settled spores, reducing moisture levels that permit microbial growth, performing rapid drying and applying biocides to clean and disinfect surface materials.
Office, school, hospitals, residential, commercial and industrial buildings all have the potential to become mold infected if there are leaks, floods or humidity control problems. Mold can grow practically anywhere when there is sufficient moisture. Prior to testing, an inspection is performed in an effort to find water damage and visible indications of mold growth. An inspection often can identify the problem without testing. Non-invasive inspections cover building areas and surfaces that are accessible and visible without cutting holes or removing building materials. This type of inspection has limitations but may be necessary because the owner may not authorize any activity that damages the building.
Reports and Recommendations: The explanation of the outcome of mold inspections and tests is a critical element of consulting services. Mold contamination in buildings is typically a complex issue that is not yet covered by regulations or even broadly accepted guidelines. Many aspects of mold issues are controversial and the health hazards not always clear. Many practical considerations come into play. For example, it may not be possible to fully define the extent of mold growth and the source of moisture causing it until at least some demolition of building surfaces provides access and visibility. Owners and remediation contractors typically would like to know the cause and location of all concealed mold and water damage before beginning remediation. We strive to provide this information. However, complete identification prior to beginning demolition is seldom possible due to the inherent nature of mold growth in buildings. Disaster Clean Up reports provide insight into problems, along with options for practical, systematic steps to address mold issues.
Don't Wait Call Us NOW
Call or Contact Us Online for an estimate on our Mold & Mildew Remediation services. Disaster Clean-Up works with all insurance carriers… do not let the insurance carrier tell you who you can have in your home…this is your choice and obligation to bring in a reputable company.